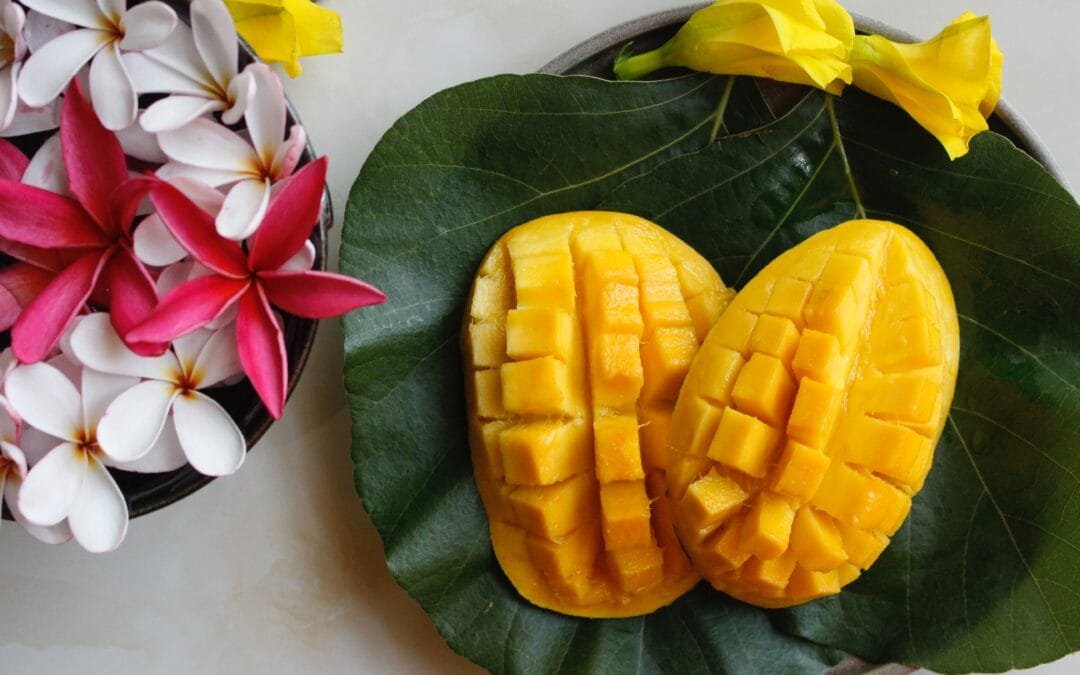 Who doesn't love a mango?
I remember as a child eating mangoes in Africa – we would clean the stone and draw faces on it making it look like a hairy face!
Later in Australia, we loved eating them and would include them in salads and puddings.
The Mango is the succulent fruit from an evergreen tree which is a member of the cashew family of flowering plants.
It originated over 5000 years ago in the Hindi- Burma region ( Eastern India, Southern China across South East Asia). It was believed that the seeds travelled from Asia to the Middle East, East Africa and to South America.
The Portuguese were believed to have established a mango trade and other explorers like the Spanish took them to tropical and subtropical places. They thrive in places like Mexico, Peru, Australia and Africa.
They can grow quite tall and will bear fruit after 4-6 years of planting. Read more here
Anyone who has ever eaten a mango will remember how messy they are when eating. You can  also eat the skin as it is considered to have important nutrients and compounds, but be aware of pesticide residue, so always clean really well first.
Read more here on how to eat a mango.
A handy hack to cut a mango to minimise mess, consists of using a glass tumbler – take a look here
On a recent trip to Japan, we could not believe the quality of the fruit in the stores.
Fruit is considered a treat and was often quite expensive.
For instance an apple known as Sekai Ichi ( which translates from Japanese to mean the best in the world) averages in size up to 46cm in diameter and is quite costly and displayed very carefully to showcase it's special value.
It is a cross between a golden delicious and red delicious apple and costs about $20 for one!
Perhaps there is a lesson to be learned here- fruit is a treat, and could be treated as such instead of eating lollies and confectionary.
We might all be much healthier for it.
If you make each minute of your life fruitful, you will have nothing but a fruitful life.
©2023 gentlelifehacks.com | Author| Kathryn